Data Analysis Plan for Quantitative Analysis: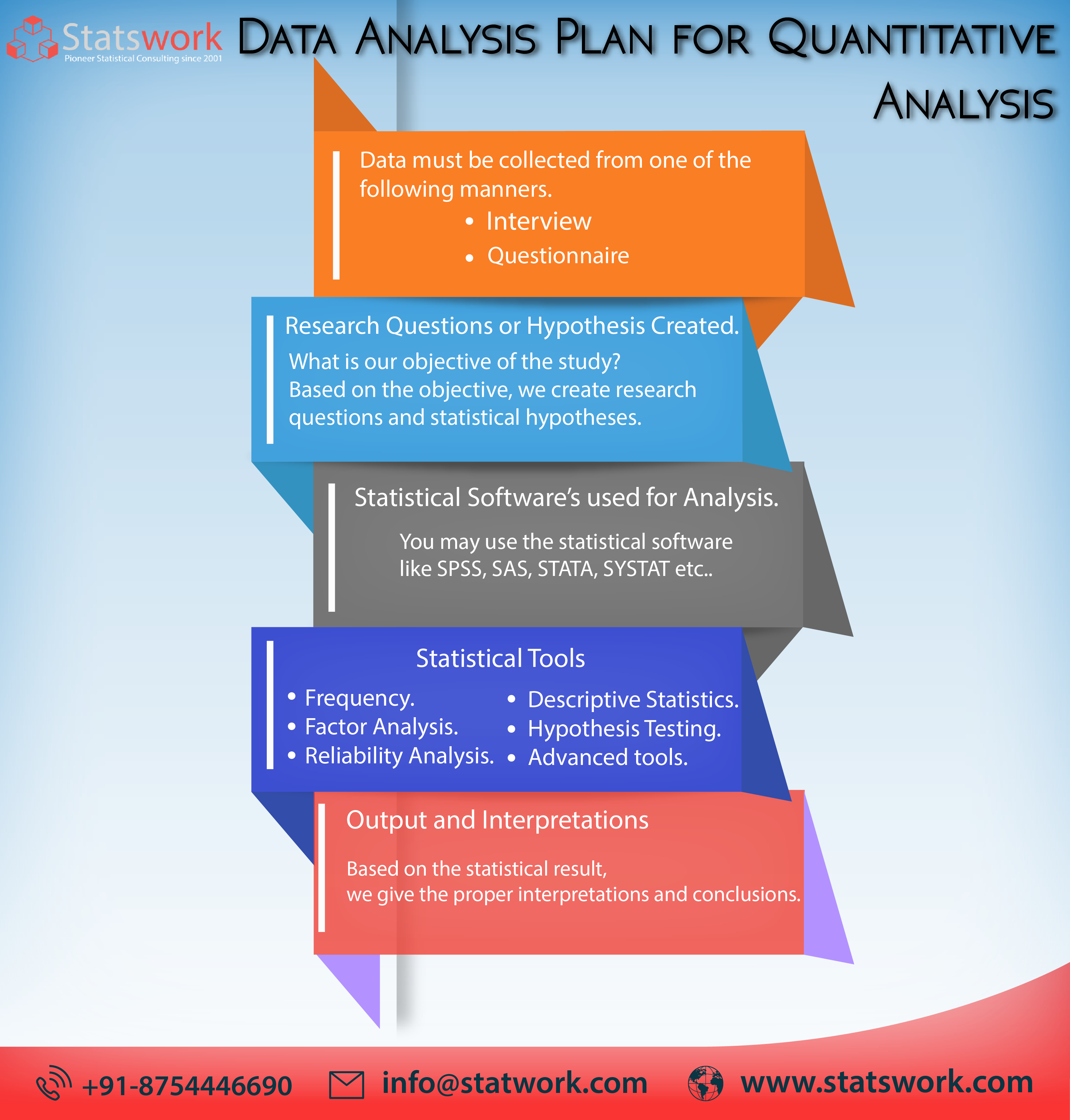 There are five steps used for analysis the quantitative data. Those are described in the below steps
Step (i)
Data must be collected from one of the following manners:
Interview
Face to face interview
Telephone interview
Computer Assisted Personal Interview
Questionnaire
Paper-pencil questionnaire
Web based questionnaire
Step (ii)
Research questions or hypothesis created
What is our objective of the study? Based on the objective, we create research questions and statistical hypotheses.
Step (iii)
Statistical Software's used for analysis
You may use the statistical software like SPSS, SAS, STATA, SYSTAT etc..
Step (iv)
Statistical Tools
Frequency
Factor Analysis
Reliability Analysis
Descriptive Statistics
Hypothesis Testing

Parametric Tests

Independent sample t test
Paired sample t test
ANOVA
Pearson Correlation Coefficient
Regression Analysis

Non-parametric Tests

Mann-whitney U test
Wilcoxon-signed ranked test
Kruskal wallis test
Spearman correlation

Advanced tools
Step (v)
Output and Interpretations
Based on the statistical result, we give the proper interpretations and conclusions
Frequently Asked Questions
What Services do you provide under Quantitative Data Analysis?
We provide Quantitative Data Analysis services
Do you provide a sample work of Quantitative Data Analysis?
Yes, we offer you Quantitative Data Analysis sample work that helps to understand our quality of work.
I had completed my 50% of work. Would you assist in completing the rest?
Yes, we can able to finish the rest. However, you need to share complete work, in order to assess the volume of work
Am I not aware of statistical tools to be applied in my research? Would your experts help me to complete?
Yes, we help you to identify right tool based on your hypothesis and research design.
Do you offer unlimited revisions?
We do offer unlimited revisions for the work being committed.
Would you provide tutoring service for the analysis that you had carried out?
Yes, on special request, we offer online tutoring services
Get the Help from Professional Statisticians & Biostatisticians.