Sample size for quantitative research
Sample Size Calculation
Sample size calculation plays a critical role in meeting your entire research or business oriented goals. While calculating the sample size, one must be very careful which balances the needs of the study, feasibility to collect the data, timeline required to collect the denoted samples, timeline which the respondent will take to answer the questionnaire or participate in the study, availability of the samples, rarity of the sample and many more. So our Statswork experts ensure to meet the objectives by calculating the optimal sample size for your study. We ensure that your market research report or the business consulting reports are backed by optimal number of sample size that will help you arrive at accurate results. The ultimate goal is to obtain both a desirable accuracy and a confidence level with minimum cost, as large sample sometimes dry up our resources and very small sample often lead to not viable results in order to conclude. Our team at Statswork is a group of seasoned statisticians who are also experts in determining the ideal sample size to pull out information from data.
How we calculate the sample size?
It is not just a theoretical way to calculate the sample size where our Statswork experts ensure they provide you with the sample size only with the research back-up. We analyze the existing studies on your research objective and do a comparative study. Based on the limitations of the existing studies and using other parameters, we decide the price quote. Here is the way how we calculate the sample size.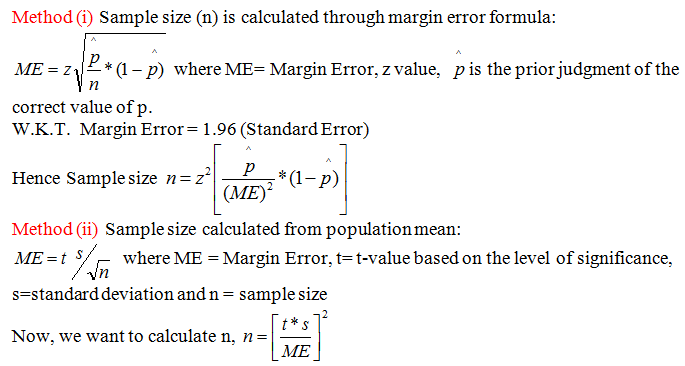 What information I need to provide for sample size calculation
Before committing the project, we will be asking for the following information such as
Objective of the study
Target population
Target geographical area
Rarity of the Sample studied
Specific parameters (which may vary according to the study)
How can you reach us to know the sample size for your study?
You can reach us via email at info@statswork.com or just fill this form so that we can get in touch with you.