Why do You need to Outsource Data Analytics to Statswork?
Our analytical team brings in-depth knowledge and domain expertise across a broad spectrum of industries. Coming from a wide variety of academic and commercial backgrounds our statisticians and engineers frequently participate in rigorous training sessions to reinforce fundamental practices and explore cutting-edge methodologies. We strongly believe in client success and growth; therefore, we maintain a partnership with a wide array of key technology vendors and services especially specialty and open source providers to offer digital and business analytical solutions. We create customized solutions across the digital value chain by understanding deep customer insights, product/service innovation, enhance cost management, and offer financial performance analysis,
Country, Industry, Market, & Organization, Consumer Research & Analytics
Small (or) Big Data, Text, Audio, Video (or) Image Data, Descriptive to Predictive Modeling, Infographic Presentation for Social Media, White Paper, Case studies, Report Development, and many more..
Statswork serves Fortune 500 companies by providing them exclusive solutions in intricate areas of strategic analysis. It includes business decision making, risk, and fraud analysis, market research based data analytics and a hypothetical prediction of future market trends.
Over the years, we have assisted a multitude of organizations, empowering them with feasible solutions using sophisticated analytical modeling tools to resolve intricate business conflicts. While most organizations have all the requisite data with them, they are unable to apply the available data constructively due to lack of adequate know-how. Many organizations approach us with an enormous amount of data and express their inability to convert significantly that data into valuable business insights. It is here where Statswork steps in and offers extensive statistical and analytical services that not only resolves issues of conflict but also adds value by offering more than what is expected. Our expertise lies in resolving particular business conflicts that merit the need to deploy statistical tools and analytical methods that organizations are unable to overcome on their own.
Our Offerings
We deliver expert statistical analyses and programming across a range of industry sectors including Pharmaceutical, food and beverage industry, cosmetics and beauty, Sensory, Consumer Analysis, banking and financial services, utilities and energy, insurance, retail and consumer packaged goods, consulting and professional firms and travel and leisure. Our statisticians and programmers have built a reputation for excellence by being responsive and collaborative, producing quality deliverables, and maintaining the highest level of scientific integrity. Our solutions include big data analytics, marketing analytics, data services, digital analytics, HR analytics, operational analytics, analytics consulting and outcome based analytics.
In addition, we also offer solutions to marketers, business consultants, and academics for enhancing strategic decision making. We assist you in planning cost-effective survey, product portfolio analysis, differentiate between bad and good forecasts, strategy setting and mapping markets for positioning of products. In addition, our team of statisticians also offer 4D map, BCG Matrix, risk analyst, project map, profile manager, copy test, variation analyst, stacked charts, smart mapping, semantic differential, segmentation tree, proportion analyst, quality analysis, McKinsey Matrix, cluster analysis, decision, tree, descriptive analysts, forecast manager, gravity managers, brand switch analyst, brand mapping, and benchmark map. Other solutions offered are marketing research and statistics, queuing theory, project management, forecasting, database analysis, and pricing.
Business Outcome
By outsourcing your analytics to Statswork, your organization can leverage the following benefits: Aligning resources with strategies, realizing costs efficiencies, responding to user needs for availability of data on a timely basis, Improving the organization competitiveness, Producing a single, unified view of enterprise-wide information, Improving the decision-making process (e.g. quality and relevance of decisions), Speeding up the decision-making process, Better align resources with strategies, realizing costs efficiencies, responding to user needs for availability of data on a timely basis, improving organizational competitiveness, producing a single, unified view of enterprise information, synchronizing financial and operational strategies, increasing revenue, and Sharing information
Decisions based on facts, and cause problems rather than guesses and gut instinct are static, inflexible and inefficient
Serve Across vertical and Horizontal domains
Statswork has capability and Skills to serve across vertical and horizontal domains. As a pioneer in knowledge process outsourcing, we provide research and analytics services to companies across many industries. We serve global 2000 companies, professional service firms, and innovative mid-sized companies in the financial services, life services, and healthcare, and various manufacturing and services industries. We add value by combining proprietary methodologies to analyze and improve knowledge process and technology to enhance productivity. We strive to give our client an edge in their markets by improving productivity and creating new capabilities, well beyond geographic costs arbitrage.
Research Planning: Our Service Features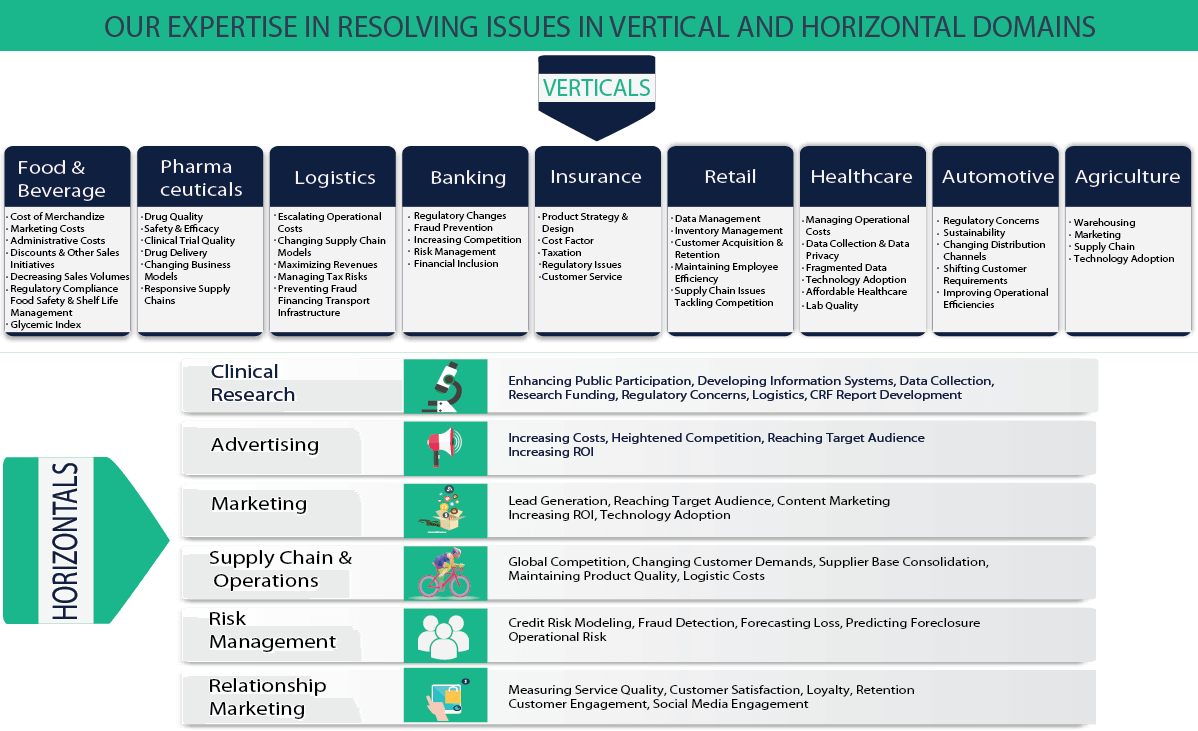 Requirement
Before committing the project, we will be asking for the following information such as
Objective of the study
Target population
Target geographical area
Rarity of the Sample studied
Specific parameters (which may vary according to the study)
Why Statswork – Our Exclusive Features for Corporates
Our team has extensive experience (10+) in B2B and B2C research. Experience across industry verticals—Financial Services, Manufacturing, Healthcare and Life Sciences, CPG/Retail, and Technology. A strong team of close to 150 researchers, programmers, and domain experts with global exposure. Access to the subject matter and industry experts. Global delivery capability for large-scale projects. End-to-end projects. Real-time voluntary data
We ensure to deliver what we promise
Only the Best Qualified Statistical Experts, Mathematicians and Engineers
StatsWork team comprised of doctorate and Master's Degree in statistics and biostatistics. The team is led by researchers from Harvard & Alabama. Our research expertise has rich experience and has sound statistical knowledge including interpretation of statistical reports. Quality is the magic word that drives us. Be it any situation. There are times when we don't have adequate resources, but it does not have any effect on the quality of work. We offer fast, reasonable and above all dependable. We have a goodwill of our students. That is because we always provide them with authentic and high-quality statistical Services. We provide quality writing services on any subject and offer instant support through direct contact. Thousands of students have benefited from our services, and a lot more are looking forward to establishing a lasting relationship with us.
SPSS / SAS / R / Minitab / STATA Experts 24/7 Support and 365 days
Statswork professional statisticians provide full assistance in you qualitative and qualitative analysis. Our statisticians can assist you to select the best research design for your context. We have a team of statistics and Engineering Experts who can handle both proprietary and open source platforms. We have previously handled, Epi Info, SAS, Dataplot, MacAnova, StatCato, SCaVis, SOFA, MaxStat, STATA, Minitab, Analytica, Statwing, STEM, AlterWind Log Analyzer, CoPlot, ChemStat, Decision Science, Forcast Pro, MATLAB, MedCalc, Magnum Opus, PASS, PolyAnalyst, SigmaPlot, TurboStats, and Tanagra. Our team is trained in a number of areas including sampling, sample size calculation, data processing, and data preparation and planning for statistical development. Our statisticians can help you in data coding to produce results with accuracy.
Confidentiality and Security & 24/7 support
We never divulge the identity of our clients to any third party without their approval. We maintain a database where each order is saved after completion. Neither your teachers nor your friends and classmates will ever get a hint about us. In fact, the way we write your dissertation, it is not possible to guess that a professional writing service has added its touch to it. At Statswork you will always get 100% non-plagiarized (checked against the best anti-plagiarism software). Our statistical approaches have been accepted across global markets, and our experienced professionals can assist to obtain cutting edge outputs for your requirements. To meet our global client requirement, our statistical services offered 24/7 x 365 days' email support. All new queries are addressed at info@statswork.com while existing projects are handled at projects@statswork.com, and complaints and issues are handled at support@statswork.com
Formatting of Tables & Figures according to the Style – NO Copy Pasting of Software Output
We never copy paste the output rather we create our unique tables according to the journal specification. If in case if you have any specific instructions on pasting the software output, we follow your instructions strictly. Secondly, we offer unlimited revisions for the statistical work being committed at an initial stage. We ensure to address feedback or comments given by professor or tutor. Our revision support adheres the guidelines by the professor / supervisor and understands things from the his/her point of view. Finally, services had been recognized by a wide range of universities across the globe, especially in the UK and the US universities. Therefore, you're assured for the guaranteed quality output and presentation. We ensure that you are entirely assured and satisfied to present your research findings and statistics.
What our customer says about Statswork
Though I had a supervisor and a professor, still I found it challenging to proceed with the dissertation since I stuck at the methodologies part. However, Statswork assisted me in completing the research methodology chapter- Paul C., Bristol, United Kingdom

After choosing a topic, I was confused with choosing the right methodology. The biggest challenge I faced during social science is writing the methodology. I found statswork doing good and genuine research support to students, Thanks for the great support-Walden P., England

They analysed my Phase 1 data, and the analysis was compliant.
Frequently Asked Questions
What Services do we offer under research planning?
Under research planning, we offer complete research planning service that includes, identifying research design for the problem being identified, power & sample size calculation, data collection plan and timeline, data analysis plan including tables and graphs.
I had completed my 50% of work? Would you help in completing the rest?
Yes, we can able to complete the rest. However, you need to share complete work, in order to assess the volume of work.
Do you offer unlimited revisions?
We do offer unlimited revisions for the work being committed.
Would you provide tutoring service for the analysis that you had carried out?
Yes, on special request, we offer online tutoring services.