Methodology
Chapter 3 - Research Methodology
3. 1. Research Process
According to Saunders, Lewis and Thornhill (2009), accomplishing the intended objectives necessitates carrying out a research through methodically gathering data and analysing them in order to discover phenomenon. Considering the research process, it is realised that defining the research strategy is necessary. For this purpose, Saunders Lewis and Thornhill (2009) bring forward the research process onion, which assists the researchers in illustrating the aspects that drive the selection of data collection methods. According to the scholars, the research process onion consists of five layers, which are the philosophy of the research, the approach of the research, the methodology of the research, time prospects and data gathering techniques (Saunders Lewis and Thornhill, 2009).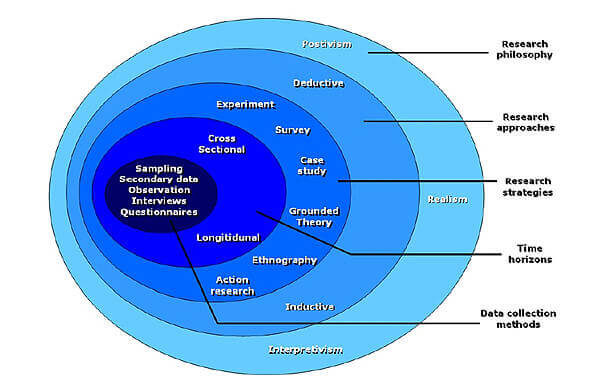 In developing the methodology of this research, the research process onion offered by Saunders, Lewis and Thornhill (2009) is utilised.
3. 2. Research Philosophies
Out of the many ways of explaining, theorising and categorising research methodologies, studying them on the basis of their philosophy is the most fundamental approach (Clarke, 1998). Philosophical approach towards studying research methodologies works with certain premises built on the most basic aspects of the world, for instance the mind, substance, reality, logic, truth, the nature of learning and how it is substantiated (Hughes 1994). Research philosophies are classified under three categories which are namely positivism, interpretivism and realism.
Positivist thought has a long history of evolution, rebuttals, reiteration and reassessment. The rationale behind positivist thinking is that there is an independent truth that is external to human actions and hence cannot be reduced to being a figment of human imagination. As per positivism, science is the way to reach the truth, to understand the world better to be able to predict and control it. The universe operates by the laws of cause and effect, is deterministic, and is different when we apply the scientific approach. Science is, therefore, broadly a mechanistic or mechanical affair in positivism. Methodical reasoning is used speculate and test theories. Based on the results of the tests we can see whether a theory fits the facts or not, if not then we revise the theory accordingly to predict reality more accurately (Easterby-Smith, Thorpe and Jackson, 2008). The positivists believe in empiricism, with observation and measurement being the centre of the scientific endeavour. Scientific methods main approach is the experiment, to recognize and understand laws through direct manipulation and observation (Trochim, 2000). On the other hand, approach has its own pre-defined limitations for research due to the structured research design requirement. According to the assumptions of the approach researchers may affect the approach by their own values or may be objective. In order to attain generalisations from the outcomes, large samples should be utilised considering the fact that one measurement would not be sufficient to comprehend the complex nature of the studied subject.
According to Hatch and Cunliffe (2006), the interpretivist/constructivist philosophy can be succinctly described as anti-positivist. Interpretivism can be generally described as an inductive or theory-building model. Interpretivists believe that there can be various realities (Denzin and Lincoln, 2003) and that all knowledge is ultimately related to, and influenced by, the person who has attained the knowledge. Therefore, interpretivists attempt to work collaboratively to understand and gain meaning from various points of view, and use this to form conclusions for their research projects (Hatch and Cunliffe, 2006).
Saunders, Lewis and Thornhill (2009) state that results from these types of studies tend not to be generalised, but are focused on understanding the meanings and points of view of individual subjects within their unique contexts. It is also important to study the thoughts and feelings of individuals, along with their verbal and non-verbal methods of communication (Easterby-Smith, Thorpe and Jackson, 2008). This type of study is considered more qualitative than quantitative due to the emphasis on language and the subjective type of data gathering that is used (Eriksson and Kovalainen, 2008). Researchers following this paradigm are particularly cautioned to carefully contemplate any bias that they may unintentionally introduce into the study due to its subjective nature, as well as the close interactions between researchers and their subjects.
The realist philosophy was created as an alternative to the extremes of positivism, which was considered too determined by the absolute control of natural laws, and constructivism, which was too relative and dependent on the individual circumstances. The realist philosophy proposes that there are indeed realities that are not related to or created by human awareness, but that understanding of information is influenced by society. Saunders, Lewis and Thornhill (2009) interpret this paradigm to mean that social conditioning creates an individual's understanding of the world.
According to Blaikie (1993), realists are fundamentally striving to understand and quantify these mechanisms; however, they also understand that these mechanisms sometimes do not mesh with actual observations. The idea that events can happen without actually being experienced is shared by Hatch and Cunliffe (2006), who describe this layered form of reality in which visible events are actually being controlled by underlying mechanisms that are not readily visible to the outside observer.
In this research, the author adopted a realistic stance for the investigation of topic at hand which is development of marketing communications strategy for "Me! Bath" brand to be launched in India. This is because carrying out this research involved exploring current customer trends towards luxury bath and spa products in India as well as measuring the effectiveness of marketing communication strategies of existing companies operating in bath and spa products segment in the eyes of Indian consumers.
Adoption of the realistic philosophy made it possible incorporating qualitative and quantitative methods in reaching the aim of this study.
3. 3. Research Approaches
Two research approaches are offered in the methodology literature. These are deductive and inductive approaches. The deductive approach to research is also known as the top-down approach in which a comprehensive theory is developed before reaching a summarised hypothesis. Researchers then gather sufficient data on the subject that is then analysed to prove or disprove the hypothesis. Thus, it can be said that this approach has a converging orientation between its application and development thereafter (Nance, 2008).
The inductive approach to research is the opposite of the deductive. Under this approach, a small part of the bigger subject being researched is studied in great detail in order to reach a conclusion. The section being studied may seem inconsequential on its own but, in the end, proves to be integral to the research matter, as a whole (Hatch, 2002). This approach starts by examining the observations and data about the segment and assessing it, keeping in mind the larger context (Denzin and Lincoln, 2003). Basically, the process moves from a specific section of the larger research topic to the generalised subject before reaching a conclusion.
In this research, a deductive approach was followed. In developing the conceptual background of this dissertation, following sources were critically reviewed.
| Main research field | Examined sub-fields | Sources |
| --- | --- | --- |
| Marketing Communications | Marketing communication tools | Kotler and Armstrong (2010) Kitchen and Pelsmacker (2004) Blythe (2006) Kotler and Keller (2006) Jobber (2007) De Pelsmacker et al. (2001) Smith and Zook (2011) |
| | Importance of marketing communications | Odunlami and Ofoegbu (2011) |
| | Integrated marketing communications | Schultz (1993) Gould (2000) Pitta, Weisgal and Lynagh (2006) Ouwersloot and Duncan (2007) |
| | Marketing communications in fashion and beauty products | Lea-Greenwood (2012) |
| | Impact of marketing communications on consumers | Selvarajan (2012) Tuckwell (2010) De Pelsmacker, Geuens and Van Den Bergh (2010) Hansen and Christensen (2007) Keller (2001) Taylor, Hunter and Lindberg (2007) Bendixen (1993) |
| Consumer Behaviour | Definition Factors influencing consumer buying behaviour | Peter and Olsen (2005) Patanaittikul and Ongkrutraksa (2010) Kotler (2003) Shiffman and Kanuk (2004) Hawkins, Best and Coney (2004) |
| | Consumer behaviour | Ferrer et al. (2012) |
| | towards bath and spa products | |
Through following a top-down approach, the author reviewed the literature starting from marketing communications and consumer behaviour in general and narrowed down to marketing communications and consumer behaviour in fashion and beauty/bath and spa products. Secondary research was also carried out on the Key marketing communications best practices followed globally in the premium home spa segment. This was followed by assumptions, hypotheses and primary research, concluded with an empirical research investigating the assumptions and hypotheses (Bryman and Bell, 2007).
3. 4. Research Design
Methodology is defined by Saunders, Lewis and Thornhill (2009) as the belief that e stablishes the methods in which research should be performed in order to achieve the defined purposes. While intending to reach the objectives of research, methodology requires producing a theory and providing the necessary techniques to determine the hypothesis. The aim of this dissertation is to evaluate the effectiveness of marketing communications used for premium home spa bath and body care products in India in order to develop an integrated marketing communications plan for Me Bath's launch in India. To reach this aim, this study takes Bendixen (1993) suggestion in conducting the research. Bendixen (1993) suggests that "asking questions about consumers' intention to purchase the advertised brand or product will complement the research". The author also points out that "this type of research generally leaves a serious gap in the measurement of true advertisement effectiveness and argues that the actual sales of the product, or surrogate variables such as market share should be also considered as these variables indicate the true reflection of the behaviour stage of communication process; however it is believed that by integrating qualitative and quantitative variables, it is possible to measure the effectiveness of marketing communications efforts of firms in the long-term (Bendixen, 1993).
Saunders et. al (2009) distinguish between exploratory, descriptive and explanatory research. Exploratory research is used when the purpose of a study is to clarify the understanding of a problem. Collis and Hussey (2009) show that when there are limited studies concerning the issue to which the researcher can refer to for information, the exploratory research method is performed. Descriptive research according to Robson (2002,p.59) is "to portray an accurate profile of events, or situations". And explanatory research follows the aim to establish causal relationships between variables. Whereas exploratory research combines literature review with qualitative data in form of expert interviews and focus groups, descriptive and explanatory research consists of quantitative data.
This research investigates the effectiveness of marketing communications efforts of firms operating in bath and spa products segment and thereby attempts to create an Integrated Marketing Communications Plan for ME! Bath's launch in India. This will be done by combining literature review findings with qualitative data in the form of expert interviews and focus groups with quantitative data in form of a consumer-based survey. Hence exploratory as well as descriptive and explanatory research is conducted.
Accordingly, the following research questions are formed for this study:
PART A.) Marketing Communications in the Premium Home Spa Segment
What is the role of marketing communications in consumers' decision making process for premium home spa products (globally and in India respectively) ?
How do consumers respond to integrated marketing communications efforts of bath and spa products currently in India?
What kinds of marketing communications are run by organisations operating in luxury bath and spa industry in India? Wha are the key differences between the global and Indian context ?
To what extent are the existing marketing communications practices of firms operating in bath and spa segment in India effective in attracting customers to their offerings?
What are the global best practices in marketing communications that could be deployed in India by premium home spa products ?
PART B.) Design of innovative marketing communication tools and evolving an IMC Strategy around the same for ME! Bath's launch in India
What are the innovative marketing communication tools (evolved from the above research) that could be deployed by ME ! Bath for its launch in India ?
How effective are the newly introduced marketing communication tools ?
What should be ME ! Bath's integrated marketing communications strategy ? (This is to be built around the newly introduced tools that are found to be effective) The methods used for measuring effectiveness of marketing communications have already been elaborated in the literature review.
There are seven research strategies according to Saunder et.al (2009). These are:
Case Studies
Survey
Action research
Experiment
Grounded Theory
Ethnography
Archive Research
A Case Study is "a strategy for doing research which involves empirical investigation of a particular phenomenon within its real life context using multiple sources of evidence". Surveys allow researches to collect a high amount of data in a highly economical way (Saunders et. al, 2009)
To achieve the research objectives in Part A of this study, case studies in the form of in-depth one-on-one interviews with experts, and focus group discussions with consumers have been conducted. Additionally, this research conducted a consumer-based survey to investigate consumer's perception on marketing communication tools deployed to date, and their assessment of the impact on the brand's equity. This led to a triangulation strategy which is not uncommon (Saunders et al., 2009).
To achieve the objectives in Part B of this study, expert interviews were carried out to come up with suitable innovative solutions based on gaps in the existing marketing communications space for premium home spa brands in India. Then focus group discussions were carried out amongst consumers to help shortlist possible innovative marketing communication tools for the segment. Innovative MC tools once designed, were experimented at points of sale, and suitable empirical data was collected though real-time analytics and also consumer surveys, to assess the effectiveness of the newly designed tools. An IMC Strategy was then built around the impactful new MC tools. Expert interviews could be further used to evolve the same if required. This choice of research approach can also be labelled as "methodological triangulation". The advantage with methodological triangulation used in PART A & B, is that it helps to enhance reliability, validity as well as widening the knowledge and understanding of the chosen research field and avoiding misinterpretation of the collected data (Bryman and Bell, 2007; Saunders et al., 2009)
Research Choice
Saunders et al (2009) highlight two main research choices- the mono method and the multiple method. The mono method comprises single data collection and analysis, which thus is either quantitative or qualititative. Quantitative data collection techniques or data analysis generates or uses numerical values (Bryman & Bell, 2007). In contrast, qualitative data is used for any data collection technique (eg. Interviews) or data analysis (eg: categorising data) that generate or use non-numerical data (Saunders et. al, 2009).
In contrast to the mono method, the multiple method uses more than one data collection technique and analysis procedure (Saunders et. al, 2009:152, figure below).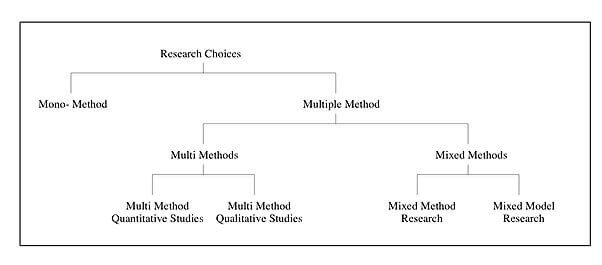 In this dissertation, as previously mentioned, primary research is intended to conducted through interviews with experts and focus groups with consumers (qualitative data collection) on the one hand and through a consumer based survey and real-time analytical data (quantitative data collection) on the other hand.
This research study is based on a mixed-method research design.
3. 5. Time Horizons
Time horizons of a research indicate the time frame used for carrying out a study. Based on this, two classifications are made by Saunders, Lewis and Thronhill (2009) which are namely cross-sectional and longitudinal. In a cross-sectional study, the topic at hand is investigated in a particular time period and with such research, the aim is to provide a snap shot of an ongoing situation (Saunders, Lewis and Thronhill, 2009). In longitudinal research, the research is carried out in an extended period of time. The intention of this research is to observe and investigate the change and development in a certain topic (Saunders, Lewis and Thronhill, 2009).
In this study, the time horizon for the investigation was set as cross-sectional because qualitative and quantitative data collection was conducted at particular times and not over a long time frame, due to the fact that the investigation had to be completed within 3 months.
3.6 Techniques and Procedure of this research
This research combines quantitative data with qualitative data and hence a mixed-methods design. It uses 'methodological triangulation' in both its parts.
In Part A, the starting point of the triangulation of this dissertation was a set of interviews with leading global as well India Premium Home Spa brands' Brand Managers / General Managers; Owners of Premium Salons/ Spa's; Retail Heads of leading department stores beauty retail stores. This was followed by consumer based surveys and conluded with a focus group with consumers.
In Part B, in-depth interviews with experts were carried out to shortlist solutions, focus groups with consumers were then used to refine the choices and take interesting ideas for the design of innovative MC solutions, and consumer based surverys and real-time analytics were used to validate the effectiveness of the tools designed. Evolution of a complete IMC strategy, by building on the impactful new tools designed for the launch of ME Bath in India, was then done with the help of another round of expert interviews.
3. 7. Data Collection Methods
3. 7. 1. Data Sources
In finding answers for the research questions, this study, first, conducted a secondary data research on the following topics; marketing, marketing communications, marketing communications mix, integrated marketing communications, advertising and advertising campaigns. In this part, conducted secondary data was mainly used for the forming a literature review base for the study. In this part, secondary data was mostly collected from the books and articles, along with the online sources.
Furthermore, initial secondary data research was also conducted in this study to form a methodology and furthermore to provide information about the market in the global context as well as in India. Besides, secondary research also helped in identifying, understanding and analysing the existing marketing communication strategies deployed by Premium Bath and Body Brands globally and in India through available literature online and in book/ articles. At this point, methodology literature is mostly formed by the data collected through reviewing the research books, such as Collins and Hussey (2009) and Saunders, Lewis and Thornhill (2009). Online sources were the main sources of data collection in forming the market study on the bath and spa market in the world and in India.
This study also used primary data collection in answering the set research questions. Primary data collection methods are explained in the following section.
3. 7. 2. Research Instruments
In terms of the instruments that were used for collecting the primary data, questionnaires, real-time analytics, focus groups and interviewing method were chosen.
3. 7. 2. 1. Interviews
An interview is an instrument of data collection by which the researcher addresses questions towards the respondents, which are mostly open-ended in structure (O'Leary, 2004). The researcher attempts to gather necessary information by having the respondents define the situation. Interviews can be formulated in three major manners, being structured, non-structured and semi-structured interviews (McGee, 2005).
The interviews conducted for this research were semi-structured, meaning a list of questions and themes were provided. The interviews were conducted in the one-to-one format. In this study, interviews were used to gather data from the industry experts working as brand managers for premium home spa brands globally and in India, and also leading department stores/ retail chains retail heads and owners of spa's/ salons in India. It is believed that gaining insights from the industry experts would highly contribute do the development of best possible marketing communication strategy for Me!Bath.
In Part A, all interviews were focussed on gaining an understanding of the role played by marketing communications in the success of premium home spa brands in various channels (various types of points of sales). The various kinds of marketing communications campaigns run by organisations operating in segment globally and in India were understood. Consumers response to integrated marketing communications efforts of bath and spa products globally and in India were assessed as per the respective stakeholder's judgement. The extent to which the marketing communications practices of firms operating in the segment in India and globally, were effective in attracting customers to their offerings was assessed. Key learning, success factors, points of failure and improvement were understood. Exceptionally Innovative strategies were noted. A subjective assessment of the impact of the campaigns on the costs, top lines and bottomlines was also done. Other Global best practices in marketing communications that could be deployed/ adapted in India by premium home spa products were also researched.
The following expert interviews were lined up:
-Meeting with leading global premium spa brands' heads/ marketing managers at Cosmoprof Asia, Hongkong, 2012 (Brands such as Bath and Body Works, Body Shop, Anasa Naturals, Feeling Smitten Bath and Body Bakery etc.)
-Meeting with owners of key salon's / spa's in India : Owner of Affinity Salon (16 salons in New Delhi), Owner of Myrah Spa (Awarded the best wellness day spa in India by vogue magazine) in Mumbai, Marketing Manager of Jeane Claude Biguine (across key metros in India)
-Meeting with retail heads of leading department stores in India– Lifestyle, Shoppersstop, Central in India All interviews were conducted face-t-face or via phone, depending on the availability of the interview and their residence.
In Part B, a similar set of Expert interviews (experts from Spa/ Retail Trade in India only) were lined up with the intention of assessing the innovative solutions that could be deployed for ME ! bath in India. Once the new solution were tested and selected, expert interviews were again conducted to examine, how an IMC strategy could be evolved around the newly developed and chosen tools. In doing so, expert interviews were also lined up with a leading media agency (Blaze Media Services Pvt. Ltd.) to help refine the plan.
This method of primary data collection was chosen since with the same set of questions, perceptions of significant amount of people could be taken (on the impact on customer-based brand equity) based on key marketing communication strategies (identified from the one-on-one interviews with the experts and secondary research) deployed by premium home spa brands in India and globally (in Part A). The Questionnaire was formed in the form of semi-structure and consisted of questions which were used to describe characteristics of the sample. Apart from these, further questions were asked to identify the consumers' perceptions about the segment, product, brands their marketing communications practices. Effectiveness of marketing communications practices used for bath and spa products were explored in the eyes of Indian consumers, through the CBBE model. To capture variety in answers, the author employed a-six point Likert scale ranging from "strongly disagree" to "strongly agree". The survey helped to investigate the research model and hypothesis. As it is important to stay focussed on the aims and objectives of the research, questions usually are created following three variables. These are according to Saunders et. al (2009:367) "a dependent variable changes in response to changes in other variables; an independent variable causes changes in a dependent variable; and extraneous variable might also cause change in a development variable".
In this case:
-Independent variable: Marketing Communication strategies adopted by premium home spa brands
-Dependent variable – Customer based brand equity
-Extraneous variables (gender, age,social background, family, culture etc.)
Sample
In analysing the research problem, the population needs to be defined and a selection of a sub-group needs to be made to conduct the study. Population is defined as the entire elements groups under investigation by the researcher (Davis, 2000). In this sense, Indian consumers were the population of this study. As the population was too broad, this study used sampling method to decrease the amount of time and effort needed to conduct this study. Accordingly, since limited time was available to conduct this study, the researcher had to look for a way to decrease the time needed and therefore, non-probability sampling methods which are also known as non-scientific methods, were preferred. Among those methods, this study applied convenient sampling therefore, 100 customers are targeted to be included in this study (Saunders et al., 2007).
As 100 customers were targeted to be reached by the researcher, the questionnaire method was found as a rather useful instrument for this study. In fact this method also enabled the researcher to save time. In this sense, for the distribution of the questionnaires, the author employed convenient sampling method to reach the number of respondents required for this investigation.
Additional respondents were sought through snowball sampling – sent out to consumer over the internet. The author of this dissertation sent out th survey via email and his recipients forwarded the email to further consumers. Consumer surveys were also carried out in Part B to judge the impact of the innovative marketing communication tools prototyped and experimented based on the CBBE model.
3. 7. 2. 3. Focus Groups
A focus group can be seen as a non-standardised interview as it consists of two or more than two interviewees. In a focus group, the topic is clearly defined and precisely with the focus on maintaining one topic while recording interactive discussion amongst participants. Further the researches acts as a moderator to keep the participants within the boundaries of the subject being discussed, which was the impact of marketing communication tools deployed by premium home spa brands (based on impact on consumer based brand equity dimensions). Best global practices that could be deployed in India were also discussed. The focus groups also helped find other gaps and opportunities in the marketing communications strategies of the Indian premium home spa brands.
In this research for Part A, the focus group will underpin the findings on consumer's perception from the survey on the impact of marketing communication techniques used by Indian Premium Home Spa Brands, to offer this study a higher validity. Two focus groups of 6-8 participants were conducted for Part A.
In Part B, 2 similar focus groups were used to take feedback on the expert's suggestions on possible innovative marketing communication tools that could be deployed for ME !Bath in India. The focus group's feedback and inputs were taken in designing/ refining the prototypes for the new innovations.
3. 7. 2. 3. Real time analytics
To validate the prototypes of the innovative marketing communication tools designed/ created and piloted in the experiment in part B (planned in 2 salons, 1 spa and 2 department stores), real time analytics were used before and after the experiment to correlate the impact of the intervention with the impact achieved.
In Part B, innovative marketing communication tools that could be pivotal in the development of an effective Integrated Marketing Communications plan for ME! Bath would be proposed. Prototypes of these innovative marketing communication tools would also be created and tested amongst consumers through real time analytics (Anonymous Video Analytics (AVA) using video based sensors at the point of sale to capture data pertaining to attention times, dwell times, audience demographics etc.) and accompanied with a second round of questionnaires amongst consumers (already discussed above). This analysis would be carried out at points of sale Before and After the introduction (1 week and 3 weeks of the introduction of the intervention) of the innovative marketing communication intervention, so that the analytics (real-time data) could be co-related with the measures of effectiveness (such as growth in sales, repeat purchases (loyalty), CBBE parameters measured through survey questionnaires etc.). Based on the analysis of this data, if the innovative marketing communication interventions are found to yield suitable results, an integrated marketing communications strategy for the launch of ME! Bath would be then built around them accordingly.
3. 8. Methods Used for Data Analysis
To fulfil the aim of this research, this study collected both quantitative and qualitative data. Quantitative data is collected to explore consumer trends for bath and spa products in India and to measure the effectiveness of the existing marketing communication practices used by firms offering bath and spa products in the country through exploring Indian consumers' perceptions towards these efforts. Thus, in the analysis of data collected via questionnaires, the author employed statistical methods. First, the author utilised frequency statistics. Frequency is an important statistical function which relates to the entire number of observations for a considered variant. Frequency distribution is an organisation of the frequencies by volume illustrated in a table, chart, graph or other figure (Collis and Hussey, 2009). In interpreting the results by means of performing frequency testing, the Statistical Package for the Social Sciences (SPSS), which is known to be the preferred software in social sciences, is used (Bryman and Bell, 2003).
In order to determine as to whether the findings were statistically meaningful, the author employed student t-test method. The t-test analysis was used in this study to obtain and evaluate the distinctions in means between two different variables. T-test analysis was also run with the help of SPSS. For the analysis of information collected from the interviews, the author employed thematic analysis. This means that focus points in the analysis was interviewees' actual words rather than what they intent to claim by saying the words (Gibbs, 2007). Detail explanations of the findings were given in the analysis though using story-telling method.
References
Bendixen, M. (1993) "Advertising effects and effectiveness" European Journal of Marketing, Vol. 27, No. 10, pp. 19-32
Blaikie N. (1993) Approaches to Social Enquiry: Advancing Knowledge (1st Ed.), Cambridge: Polity Press
Bryman, A. and Bell, E. (2003) Business Research Methods, Oxford: Oxford University Press
Clarke A. M. (1998) "The qualitative-quantitative debate: moving from positivism and confrontation to post-positivism and reconciliation", Journal of Advanced Nursing, Vol. 27, No. 6, pp. 1242-1249.
Collis, J. and Hussey, R. (2009) Business Research: A Practical Guide for Undergraduate and Postgraduate Students (3rd Ed.), Basingstoke: Palgrave Macmillan
Collis, J. and Hussey, R. (2009) Business research: A practical guide for undergraduate and postgraduate students (3rd Ed.), Basingstoke : Palgrave Macmillan
Collis, J. and Hussey, R. (2009) Business Research: A Practical Guide for Undergraduate and Postgraduate Students (3rd Ed.), Basingstoke: Palgrave Macmillan
Davis, D. (2000) Business Research for Decision Making (5th Ed.), California: Duxbury
Denzin N. K. and Lincoln Y. S. (2003) Turning Points in Qualitative Research: Tying Knots in a Handkerchief (Crossroads in Qualitative Inquiry), Walnut Creek, CA: Altamira Press
Easterby – Smith M., Thorpe R. and Jackson P. (2008) Management Research (4th Ed.), United Kingdom: Sage Publications Ltd
Eriksson P. and Kovalainen A. (2008) Qualitative Methods in Business Research, United Kingdom: Sage Publications Ltd
Gibbs, G. (2007), Analyzing qualitative data, London: Sage Publications Ltd
Gibson M. L. and Hughes C. T. (1994) Systems Analysis and Design: A Comprehensive Methodology with Case, San Francisco: Boyd & Fraser
Hatch, J. A. (2002) Doing qualitative research in educational settings, Albany: State University of New York Press
Hatch, M. J., and Cunliffe, A. L. (2006) Organization theory: Modern, symbolic, and postmodern perspectives (2nd Ed.), New York: Oxford University Press
McGee K. (2005) "Enactive Cognitive Science. Part 1: Background and Research Themes", Constructivist Foundations, Vol. 1 No. 1
Nance 2008 ?
O'Leary Z. (2004) The Essential Guide to Doing Research, London: Sage Publications Ltd
Saunders M., Lewis, P. and Thornhill, A. (2009) Research Methods for Business Students (5th Ed.), Harlow: FT/Prentice Hall
Trochim W. M. (2000) The Research Method Knowledge Base (2th Ed.), Cincinnati, OH: Atomic Dog Publishing